Photo above is our boys doing what they love best, being part of the family!
I am a dog breeder. I spend a lifetime learning pedigrees, going over dogs, talking, and learning from those in my breed and those outside it. I raise each litter as if I gave birth to them and spend an equal amount of time finding them loving forever homes. I only bring puppies into this world that I think will be the... healthiest (mentally and physically) and best examples of their breed. I support each family who chooses one of my puppies and let them know they are now a part of our extended family. I treat them all well. I am there if one needs to come back and will aggressively pursue the return of one of my dogs if it's in the wrong place. I support my breed in rescue and education. I hold them when they arrive and leave this world. I share my knowledge and socialize my dogs so that they will be the advertisement for my dedication. I don't keep track of the money and time I put in to my love of dogs, it would not be a true measure of how I feel. The price I charge for my puppies is never profit, but investment in the next generation. I am not ashamed of who I am... I work hard at being a good dog breeder and encouraging others. I am a breeder and I am proud of it. If we don't support each other - we are doomed as a fancy.
Let me introduce myself. My name is Wendy and I live in Victoria with my husband John and our
Havanese dogs, and a Poodle that thinks he is really a human!
I work part time as a Disability Support Worker.
I now show Havanese dogs and breed the occasional litter of pups to (hopefully)
produce my next superstar showdog.
Havanese are now my chosen breed and I pride myself in only breeding from the best dogs available to me.
I am in the process of importing more dogs to Australia to widen the gene pool and to ensure that my lines are
as diverse and Healthy as possible.
I believe It is in the best interest of this lovely breed to make sure that any health problems are kept to the
minimum by health testing and not in breeding.
My dogs are most importanly much loved pets, I do not have kennels but raise
my pups in my home to ensure that they are well socialised.
My love of purebred dogs began over 30 years ago with Gordon Setters, John and I were involved with
shows, breeding and obedience trialling and enjoyed traveling to many interstate Royal and Specialty Shows.
After quite a break from Showing due to family commitments (our 2 sons) I started back showing with
Miniature Schnauzers and Lagotto Romagnolo and Obedience trialling with my Toy Poodle that attained his
Companion Dog Excellent title and my sons Cocker Spaniel that attained Companion Dog title.
I guess you could say I was hooked again and have continued with showing my Havanese,
again traveling to some of the interstate Royal shows and the bigger city shows.
I strive to breed purebred dogs of the best quality, healthy happy dogs with fantastic temperaments
that are also true to breed type.
My web sites are another of my hobbies that give my enjoyment. I try to update my 2 web sites as often as
possible and hope that you also enjoy looking at them.
Below are some pics of some of our past and present dogs.
Our first Havanese was Fly Ball Dog YysurHot Always.
"Bundy"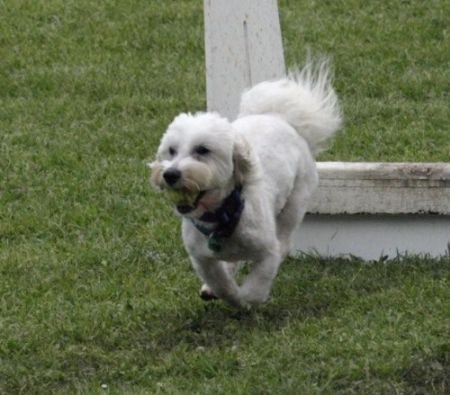 is a delightful boy with a can do attitude to wards obedience training, apart fron being the first Havanese in Australia to obtain a
an Obedience Title of Fly Ball Dog, trained by and lives with Janice and has his first pass to wards Jumping Dog
Title as well. Bundy also loves Lure Racing, Agility, Jumping Trials and Earth dog in his spare time!
Ch. Mansaters Peggy (imp.Sweden) Peggy is now retired and living the good life with her new family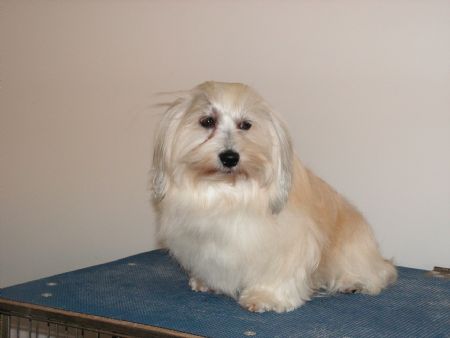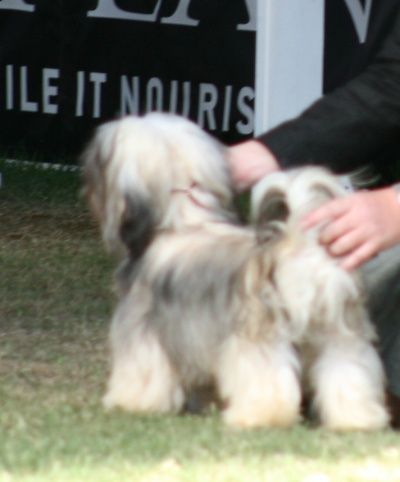 Australian Champion Rhumderry Destaco, now retired and living with his new family.
Australian Champion Hashki Lawanna,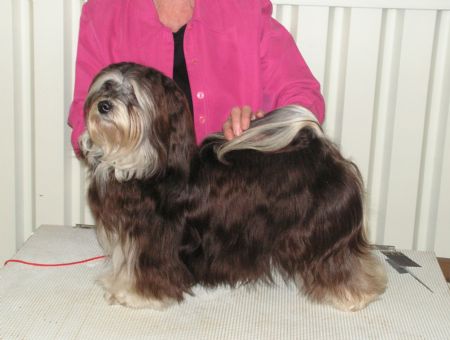 is an absolutely beautiful Black & Silver girl. Anna is all a Havanese should be and is admired wherever she goes She was only a
puppy when she was awarded "Challenge" at Sydney Royal Easter Show at only 10 months of age! She is pictured above
after winning Challenge at Brisbane Royal Show.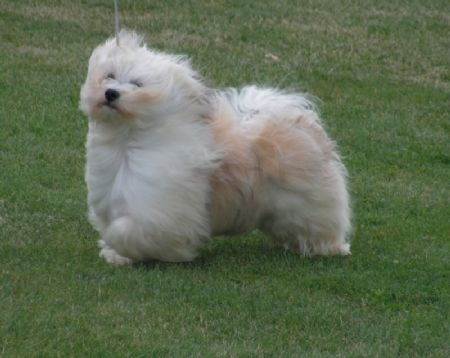 We have Imported a Fantastic Male from the U.K. Ch. Heronsbridge True Dreams (above). He is doing extremely well in the
Show ring and has produced some exceptional pups for us.